How Kaiser Permanente Found a Home for its Blue Wrap
Most people know Goodwill as a thrift store, or donation center for unwanted items. Most people don't think of Goodwill as being in the recycling business. However, Goodwill is helping to reduce landfilling and associated environmental impacts through various recycling efforts. One such effort involves Kaiser Permanente and Goodwill Southern California. Their partnership began in 2009 when Kaiser Permanente was looking for a vendor to take their 20 tons/year of blue wrap, a nonwoven material made from polypropylene used for wrapping surgical instruments for sterilization.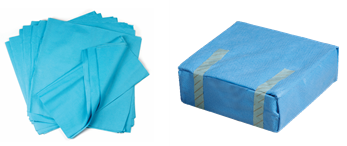 "At Kaiser, we've set ambitious environmental performance goals," says Tim Eng, Environmental Health and Safety Manager at Kaiser Permanente. "As part of our zero waste strategy, we needed a partner to help us manage the blue wrap generated in our surgery centers and operating rooms. Goodwill Industries was already supporting our business operations with document destruction and e-waste recycling, so approaching them about blue wrap recycling seemed like a good fit. They were very open to the opportunity, recognizing mutual benefit for both of our organizations."
The Process
About 760 pounds of blue wrap is collected every week from 13 Kaiser Permanente facilities around the Los Angeles area. The material is picked up by Goodwill of Southern California and brought to their Los Angeles and San Bernardino facilities for sorting by their workforce. The sorting process includes the removal of paper tape from the polypropylene woven material which is key to its market value. After sorting, Goodwill then sells the blue wrap to a recycler, who in turn reprocesses the plastic into pellets that can be used in various products, including wash buckets, lawn furniture, flowerpots, plastic lumber and carpeting.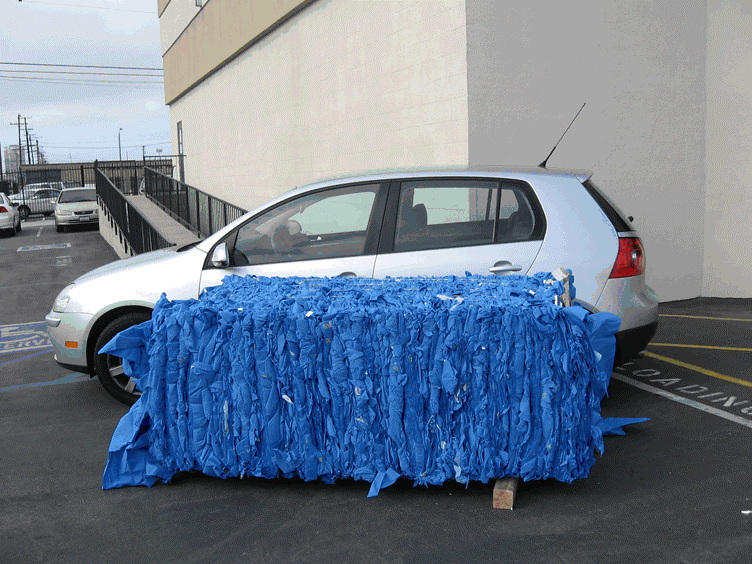 "At Goodwill, our mission is to Transform Lives Through the Power of Work, serving people with disabilities or other vocational challenges," says Steve Barr, Director of Environmental Services, Goodwill of Southern California. "The blue wrap program supports Goodwill's job training and placement services while keeping this non-biodegradable material out of the waste stream. Our partnership with Kaiser Permanente is a win-win for everyone."
Could this be a model that can work for other hospitals?
HPRC wants to find out, so we've launched a project to investigate how the Kaiser Permanente-Goodwill model can be replicated in other parts of the country. Stay tuned for more information!
More About Kaiser Permanente and Environmental Stewardship
Kaiser Permanente has a bold waste reduction target that seeks to recycle, re-use or compost 100% of their non-hazardous waste materials by 2025. Examples of its waste reduction initiatives include:
Recycling of non-medical waste
Safely re-using medical devices
Purchasing products high in recycled content and recyclability
Building efficiencies into their care delivery system
More About Goodwill Southern California
Transforming lives through the power of work, Goodwill Southern California (GCS) serves people with disabilities or other vocational challenges, as well as businesses, by providing education, training, work experience and job placement services. Each year, GSC prepares and places thousands of individuals with disabilities and vocational disadvantages into sustainable employment through programs and services offered at three campuses, six Career Resource Centers and three WorkSource Centers throughout Los Angeles, Riverside and San Bernardino counties. Committed to caring for the earth, last year GSC diverted over 100 million pounds of reusable or recyclable goods from landfills.
For more information about Goodwill Southern California, visit www.goodwillsocal.org.