HPRC recently held our spring 2016 meeting, which was graciously hosted by Johnson & Johnson in New York City. The meeting was a valuable opportunity to focus in on the HPRC mission and our projects in flight, and to redouble our efforts to enact change in the industry.
Three main themes continued to surface throughout the week, which map to three largest barriers to healthcare plastics recycling in the market today:
A Regional Problem with a Regional Solution: Healthcare plastics recycling has proven to be an extremely local issue—what works in one hospital is impossible in another, making it difficult to find best practices that scale. The recycling climate in a region is influenced by the haulers and recyclers available (who are themselves often regional entities), existing local norms and regulations, and quantities of materials that can be collected. So the question for hospitals becomes "who can we partner with?" and how can groups like HPRC help facilitate the regional cooperation needed to build large enough quantities and sufficient bargaining power to fuel the local recycling engine. We're taking a big step in this direction with our Chicago 100 Tons project and are anticipating a resulting wealth of new data and understanding about the intricacies of regional partnership.
Recyclers are the Key: For stakeholders on the hospital end of the value chain, recyclers are often the most mysterious piece of the puzzle. Confusion about what materials can and can't be accepted for recycling and why (which can vary widely by hauler) plus concerns about contamination amidst the non-homogenous waste-stream can make it seem as if recyclers are an obstruction. However, recyclers are simply responding to the market and base their decisions on complex factors that determine if there is value in a given material stream. The path forward will involve supporting the creation of market demand for these post-recycled materials, which will incentivize recyclers to include them in their programs and enable them to find buyers.
Logistics Support is Crucial: The demands on hospitals and staff are high, and space is tight. Working to determine the smoothest, simplest ways to integrate recycling processes into existing workflows without unduly burdening the workers on the front lines is a difficult balance. Continued educational support is also critical—making sure to get the right information (about packaging components, recycling processes, and what materials are and aren't recyclable) into the right hands at the right time is vital to increasing the rate of healthcare plastics recycling.
Complex Solutions for Complex Challenges: Clearly these barriers are all interconnected—the problem of how best to recycle healthcare plastics cannot be solved by any one portion of the value chain but rather requires a holistic approach. These problems are complex and deeply ingrained in the current system, which is why HPRC exists and is working to tackle all three. We're already looking forward to a fall meeting in CA! To learn more about HPRC's current projects, check out the Solutions section of our website. If you are interested in becoming a member, contact us for more information.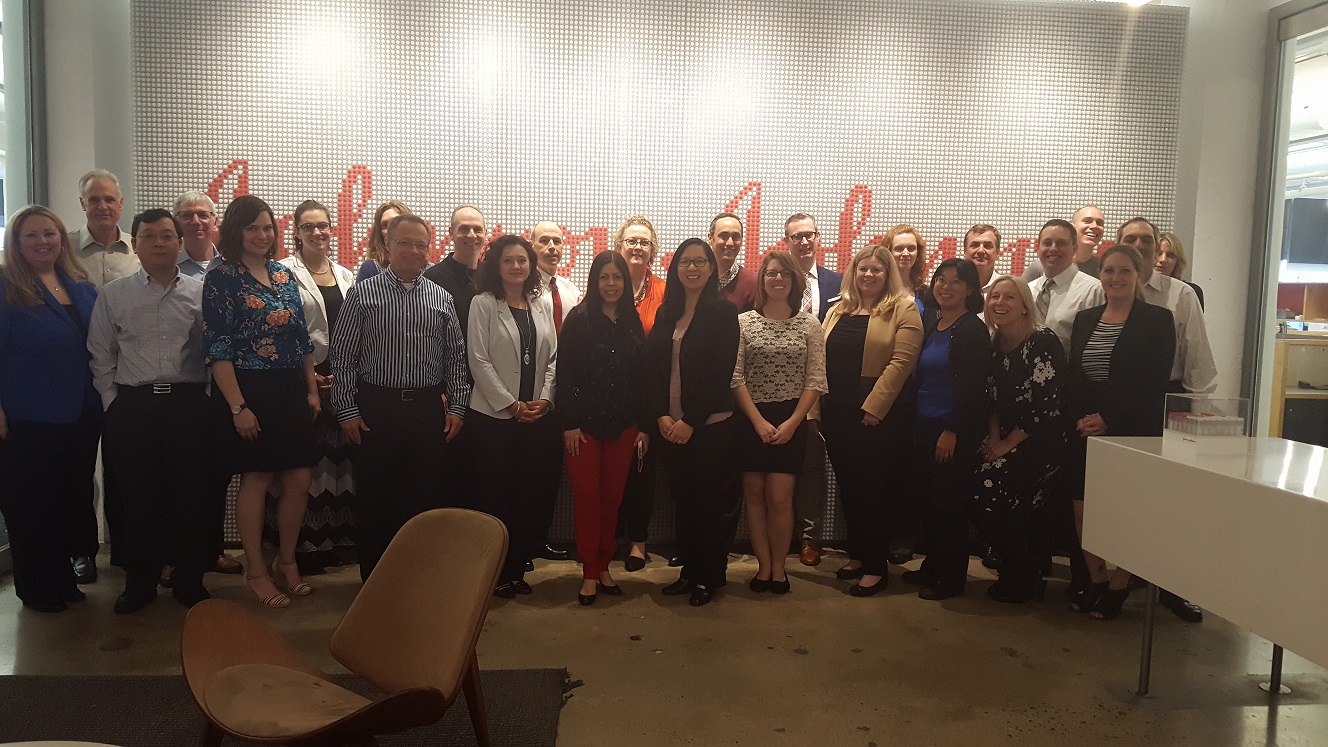 ​HPRC members in front of the Johnson & Johnson "lipstick wall," which is made out of thousands of recycled lipstick cases and serves as a reminder to the organization to be mindful of the end result of the products and packaging they create.